10,000hp 6kv
ABB AC Motor Rewind
Oil and gas companies require top-performing equipment to maintain their operations, and that's why they trust us with their rewind needs. We have a large team of highly trained and expertly skilled winders on staff to perform work quickly while adhering to our high standards of quality and accuracy. Our facilities feature climate-controlled, clean winding rooms to ensure your job is done properly. Our fully automated VPI systems ensure proper insulation integrity.
We recently received a 10,000hp 6kv ABB AC motor rewind for one of the leading oil and gas companies. This motor is used in critical applications, so we make sure that the rewind is done correctly the first time. To do this, we follow the manufacturer's specifications to the letter and use only the highest quality materials.
The result will be a perfect rewind that meets or exceeds the performance of the original motor. Our customers can always count on us to get the job done right the first time.
Contact our In-shop services department for more information and to schedule your AC Motor rewind.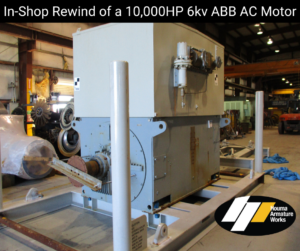 Share This Story, Choose Your Platform!